My Blog
Posts for tag: x-rays
By Babcock & Morgan Family Dental
December 28, 2015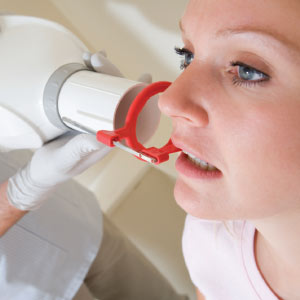 Radiographic (x-ray) images are an indispensible diagnostic tool in dentistry. One of the most routine and useful types of x-rays dentists take is the so-called bitewing. Here are some things you may want to know about this common diagnostic procedure.
What are bitewing x-rays?
Bitewings reveal the presence and extent of decay in the back teeth, specifically in areas where adjacent teeth touch each other. Unlike other areas of the teeth, these contacting surfaces between adjacent teeth can't be examined visually. Bitewings can also show areas of bone loss around teeth — a sign of periodontal disease; however, they are not taken for that purpose because bitewings will not show the complete root surface that is surrounded by bone.
Why are they called that?
The name "bitewing" refers to how the film — or sensor, in the case of a digital x-ray — is positioned in the mouth: The patient bites down on a little tab or wing that holds the apparatus in place.
How often do I need them?
This is determined on a case-by-case basis, with the goal of not exposing you to any more radiation than necessary — even the minimal amount found in a series of bitewing x-rays. Your individual susceptibility to caries (tooth decay) and personal dental history will play a major role in determining how frequently you need radiographic examination — and, for that matter, how often you need to come in for routine cleanings and exams.
Are they safe?
The safety of bitewing x-rays is best illustrated with a comparison to the regular daily radiation exposure we get every day from environmental sources, which is about 0.01 millisieverts — the unit of measure we use for radiation. A series of 4 bitewing x-rays exposes you to 0.004 millisieverts of radiation — less than half of the daily exposure. Undetected tooth decay, which can spread quickly through the softer inner layers of teeth, is considered much more dangerous!
If a bitewing x-ray shows that there is tooth decay, what happens next?
If the cavity is very small, we may be able to treat it during the same appointment. If not, we will make a separate appointment to make sure it is taken care of promptly. The sooner tooth decay is treated, the better!
What if I have more questions?
Contact our office, or schedule an appointment for a consultation.
By Babcock & Morgan Family Dental
July 15, 2015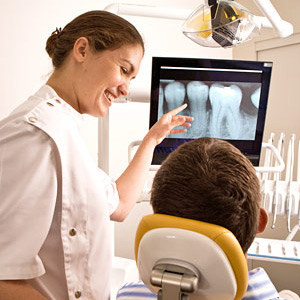 X-rays are an important diagnostic tool in dentistry because of their ability to penetrate and pass through body tissues. Because they penetrate at different speeds depending on tissue density (shorter and thus darker on exposed film for soft tissues, longer and lighter for hard tissues like bone or teeth), we're able to detect decay which appear as dark areas on x-ray film.
Without x-rays, the early detection and diagnosis of dental problems would be quite difficult. But despite its obvious benefits, it's still a form of released energy that exposes patients to a certain amount of radiation. Since the potential health risk from radiation depends on the amount released (the dosage) and for how long and often a person is exposed, we must determine if the dosage and frequency from dental x-rays is a cause for concern.
It's a common misconception to view any radiation exposure as dangerous. The truth is, however, we're all exposed daily to radiation from the natural environment — about 2 to 4.5 millisieverts (the dosage measurement for radiation exposure) a year, or about 10 microsieverts (one-thousandth of a millisievert) every day.
In comparison, radiation exposure from routine dental x-rays is a fraction of this if measured over time. A set of four bitewing images of the back teeth produces 4 microsieverts of radiation, less than half the average daily exposure. One of the most comprehensive x-ray sets, a full mouth series of 18-20 images using "D" speed film, results in an exposure of 85 microsieverts, equaling about a week of normal radiation exposure.
These thoroughly researched rates help demonstrate that regular dental x-rays are relatively safe. What's more, x-ray technology has continued to advance since first used in the mid-20th Century. With innovations in film and digital processing, today's equipment produces only 80% of the radiation exposure of earlier machines. In effect, we've increased our capabilities to more accurately detect and diagnose issues through x-rays, while lowering the amount of radiation exposure.
Of course, a person's annual exposure rate may differ from others. If you have concerns for yourself or your family about x-ray radiation exposure, please feel free to discuss this with us. Our primary goal is to improve your oral health without undue risk to your health in general.
If you would like more information on x-ray diagnostics and safety, please contact us or schedule an appointment for a consultation. You can also learn more about this topic by reading the Dear Doctor magazine article "X-Ray Frequency and Safety."
By Babcock & Morgan Family Dental
March 03, 2014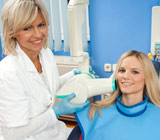 Your dental care would be much more limited without our ability to see "below the surface" with x-ray imaging. But since x-rays passing through the body are a form of radiation, could your exposure from them be hazardous to your health?
It depends on exposure dosages and, of course, the amount you have been exposed to over your lifetime. But, decades of research have demonstrated that exposure to dental x-rays during your regular office visits are only a fraction of the radiation you normally encounter from the natural environment every year.
X-rays have the ability to pass through body tissues, but at different rates for soft tissue like skin and muscle and hard tissue like bone. This effect creates shadows on exposed film; the differentiation is in such detail that a trained technician can interpret not only internal structures, but defects such as fractured bone or, in the case of dentistry, signs of tooth decay and bone loss from gum disease.
But like other energy sources in our environment, x-rays do emit radiation that in high doses can be dangerous to living tissue. The amount of exposure is measured in millisieverts (mSv), a unit that allows for comparison of doses from different sources of radiation. Scientists have calculated that we're normally exposed to between 2 and 4.5 mSv every year.
By contrast, a single digital periapical image taken of a tooth is equal to 1 microsievert (μSv), or one thousandth of an mSv; a full mouth series (between 18 and 20 images) creates an exposure of 85 μSv, or 85/1000 of one mSv. In addition, advances in technology have further reduced the radiation exposure from x-ray imaging. For example, digital imaging has reduced exposure during full mouth x-rays from seven to ten days of equal exposure from normal background radiation to half a day, and with no loss in image quality.
In effect, dental x-rays pose little to no risk for patients. Still, understanding that x-ray imaging does expose patients to radiation, dentists follow certain protocols and safety precautions. For example, dentists will place a lead apron around their patients' chest area during an x-ray exposure.
As your dentist, we're happy to address any concerns you may have about x-ray radiation exposure. But rest assured, the x-ray devices used in your dental care, so necessary in the fight against tooth decay and other diseases, are safe and reliable.
If you would like more information on the use of x-ray technology and safety, please contact us or schedule an appointment for a consultation. You can also learn more about this topic by reading the Dear Doctor magazine article "X-Ray Frequency and Safety."