My Blog
Posts for: January, 2015
By Babcock & Morgan Family Dental
January 28, 2015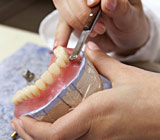 Even with all the medical know-how we possess at the dawn of the 21st century, complete tooth loss is still a big problem. In this country, more than a quarter of all adults between ages 65 and 74 have lost all of their teeth. For these individuals, removable full dentures are often still used as an affordable and effective way to replace missing teeth.
Success with dentures originates from a collaboration among dentist, laboratory technician, and, of course, the denture-wearer. Creating false teeth that look natural is as much an art as it is a science. We take a number of steps to make sure you will get the best results. These include:
Positioning the teeth. Using facial landmarks and photographs of how you used to look before your teeth were lost helps us determine where to place each tooth and how the upper and lower teeth should line up in relation to each other. For example, we will consider what size the teeth should be; how close to the lip they should be; and how much space should exist between the upper and lower teeth when they are at rest.
Simulating natural gums. If you are someone with a "high lip dynamic" (a lot of gum shows when you smile), it is particularly important to simulate real gum tissue in a set of full dentures. Fortunately, there are many colors and textures available to create a realistic effect. Again, photographs can be helpful in achieving this.
Balancing the bite. We must make sure that your upper and lower dentures come together in a way that facilitates normal biting, chewing, and speech.
As a denture wearer, you will need to visit our office regularly to make sure the gum tissue and bone upon which your dentures rest stay healthy. It's common to see a gradual loss of bone in people who wear dentures at a rate that varies from person to person. This bone loss can affect the fit of your dentures and lead to other health problems, which we can address if we are monitoring you on an ongoing basis.
If you have any questions about dentures, please contact us or schedule an appointment for a consultation. You can learn more about this topic by reading the Dear Doctor magazine article "Removable Full Dentures."
By Babcock & Morgan Family Dental
January 13, 2015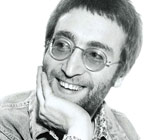 Lots of people collect Beatles memorabilia, but one Canadian dentist took this hobby to new heights recently when he paid $31,200 for John Lennon's molar at auction. According to published reports, Lennon had given the extracted tooth to his housekeeper as a souvenir in the 1960s after coming home from the dentist's office. The molar was discolored and had a cavity, according to the dentist who purchased it after the housekeeper's family put it up for bids. "For the cavity to be this large he probably wasn't seeing a dentist that regularly," the dentist said. His brushing and flossing routine may not have been that conscientious either!
For healthy teeth, it's important to have a good daily oral hygiene routine at home and regular professional cleanings here at the office. Our hygienist will scale your teeth to remove hard deposits (tartar), and polish them to remove stains for a wonderful, extra-clean feeling.
Dental hygienists are trained to do lots of other things to promote your oral health besides cleaning your teeth. They can check the skin in and around your mouth looking for any suspicious bumps, sores, etc., that may need further evaluation. They will also evaluate your periodontal health ("peri" – around; "odont" – tooth), checking for signs of gum inflammation and bleeding (gingivitis). And they monitor teeth for signs of decay, which is actually the world's most widespread disease.
Cavities, or dental caries as it is also known, are the most notable consequences of tooth decay. Left untreated, caries can lead to pain and tooth loss. John Lennon's dentist must have believed there was nothing more to be done for the badly decayed molar that later went on to fetch such a high price.
Unless you're a rock star, your teeth are worth a lot more in a healthy and functioning state — inside your mouth! So if it's been a while since your last appointment, please come in and see us. Remember: Good dental health is priceless.
If you would like more information on tooth decay, please contact us or schedule an appointment for a consultation. You can also learn more by reading the Dear Doctor magazine article, "Tooth Decay." Dear Doctor also has more on the "Dental Hygiene Visit."